16 days Safari, Kilimanjaro and Zanzibar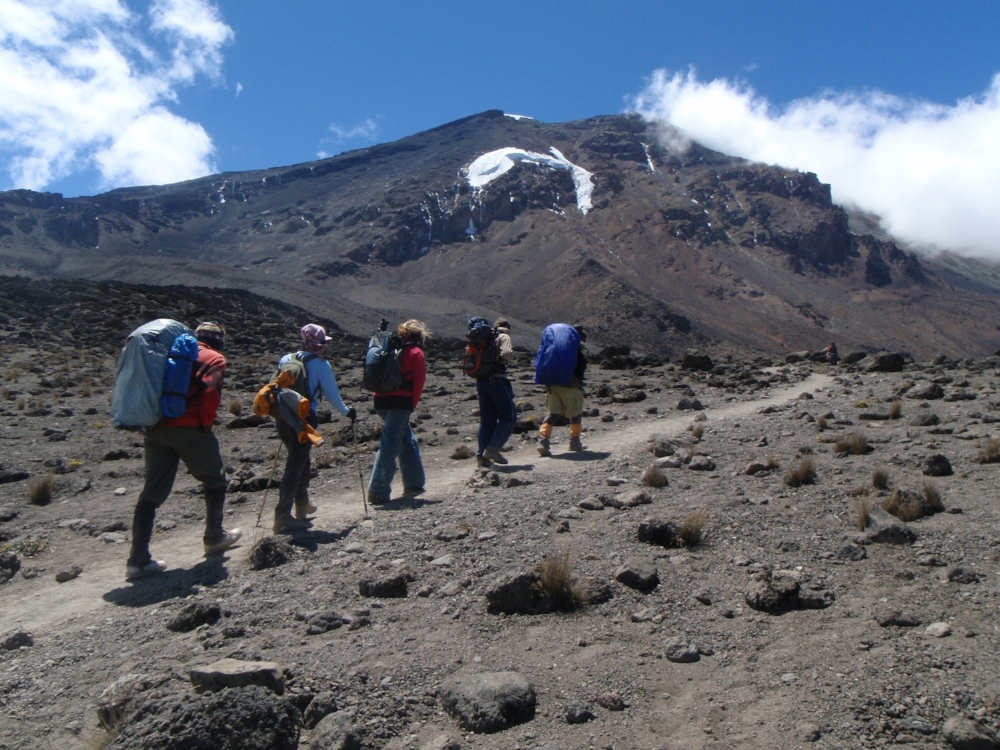 This trip will give you a chance to explore Tanzania at its best. Enjoy accommodation in tents on climb, standard or luxury lodges, beaches, luxury tented camp. You will experience nature, wildlife, habit and habitat of the fauna and flora in the natural areas, lovely beaches and of course people and culture.
DAY 1: MEET UP - DRIVE TO MACHAME GATE - TREK TO FIRST CAMP - MACHAME 3050 M
In the morning you will have a departure from your hotel on the way to the main gate of Machame, after registration start trek on the way to the first camp. The trail will take you through the villages famous for cultivating banana, later to the dense evergreen forest. Due to moisture content at the lower part, the pass becomes much slippery in association with muddy. The total distance is 11 kilometers with 6 walking hours 6 to reach the next camp. Today the elevation gain will be 1220 meters from the main gate. Dinner and overnight will be provided at the camp.
DAY 2: TREK TO SECOND CAMP - SHIRA 3850 M
Today trail distance is 5 kilometers so you will have a walk of about 5 hours to reach the second camp. The elevation gain is about 800 meters from previous camp. You will pass through moorland habitats through the steep rocky on the way to the shira camp. You will also start to experience little bit of mountain sickness although through acclimatization this will be reduced. Dinner and overnight will be provided at the camp.
DAY 3: TREK TO THIRD CAMP - BARRANCO 4000 M
Todays walking distance will be 10 kilometers with total of 6 hours to reach the next camp. The elevation gain will be 150 meters. This is due to the fact that the trail is characterized by up and down. And Barranco camp is located down to the ridge. In this day you will have best acclimatization due to little elevation gain from the previous camp. You will also experience aridity due to change in vegetation pattern and also have great view of Kilimanjaro peak. Dinner and overnight will be provided at the camp.
DAY 4: TREK TO FOURTH CAMP - KARANGA 4050 M
After breakfast, we leave Barranco and continue on a vertical point up the Barranco Wall via the Karanga Valley, this connect the trail from Mweka. This will take us to Karanga camp. The distance is 9 kilometers, with walking distance time of 8 hours. The trail is characterized by Alpine desert associated with strong blowing winds. In the camp you will have dinner and overnight prepared for midnight ascend to the summit. Today elevation gain will be 700 meters as compared to the previous camp.
DAY 5: TREK TO FIFTH CAMP - BARAFU 4700 M
This is actually the acclimatization day being in the mountain to adopt the sickness altitude sickness. After breakfast, we leave Karanga camp and continue on the way to Barafu camp. The total distance trek is 5 kilometers with total hiking time of 4 hours. Dinner and overnight will be at the camp.
DAY 6: TREK TO THE SUMMIT 5895 M, DESCEND TO MWEKA CAMP
Todays the elevation gain will be 1195 meter in within 5 kilometers and walking time to about 7 hours. In the mid night with the help of headlamp, you will start your summit attempt, your trail today is very steep, and because of extreme cold you are advised to increase several layers in the skin so as to be warm. You are required to climb slowly with care and listen from your guide. We normal consider this as the difficult point throughout your trail way up. You will reach the summit (5895m) via Stella point. This is the highest point in Africa. here you will enjoy the sun rise, have some picture and congratulating each other, later descend to Barafu for lunch and finally proceed to Mweka camp.
DAY 7: DESCEND FROM MWEKA CAMP TO MWEKA GATE, DRIVE TO MOSHI
In the morning after your breakfast, you will start descending on the way to Mweka gate. The trail is characterized by dense rainforest. At instant of reaching there, you will be given your certificate as the indication of reaching the summit. You will now celebrate together with your crew, but don't forget to tip them. Later transfer to Arusha lodge for long resting, shower and overnight. This will prepare you to start wildlife safari to the northern park next morning.
DAY 8: ARUSHA TO TARANGIRE NATIONAL PARK SAFARI
After breakfast at the lodge you will drive to Tarangire National park. it will take us to about two hours' drive to reach the main gate. This is the largest park in Tanzania and it is characterized by the wonderfully large herds of elephants that can be come across in this park. The Baobab trees are one of the other things to see of Tarangire and the Tarangire River that flows all year round. The game drive will include both morning and evening before it gets dark, were you will transferred to the lodge for an overnight.
DAY 9: TARANGIRE TO SERENGETI NATIONAL PARK SAFARI
After breakfast drive to Serengeti National Park via Maasai Cultural Boma. You will experience their culture ways of life, later precede to Serengeti. At the main get you will have your packed lunch and proceed to the park for evening game drive before it get dark.
DAY 10: SERENGETI NATIONAL PARK FULL DAY GAME DRIVE
A full day game drive at this huge ecosystem of Serengeti. Wonderful days to see wildebeest migration with their calves in rich Ndutu southern Serengeti plains with the Picnic lunch, late evening drive to Ngorongoro for overnight at lodge.
DAY 11: NGORONGORO CRATER FULL DAY GAME DRIVE
A full day of exploring the amazing Ngorongoro crater. Morning game drive, lunch, evening game drive and then back to the lodge.
DAY 12: NGORONGORO TO LAKE MANYARA NATIONAL PARK
After early morning breakfast, descend into Ngorongoro Crater floor for game drive (with a picnic lunch) inside the Ngorongoro Crater. You will have game drive until afternoon time, later you will drive to Lake Manyara lodge for overnight.
DAY 13: EXPLORE LAKE MANYARA - DRIVE TO ARUSHA AIRPORT
After breakfast drive from your lodge and proceed to Lake Manyara National Park. Although small in size, this park is one of the most diverse reserves in the country. You enjoy a picnic lunch in this area, after great all exploration, you will drive to Arusha for a flight to Zanzibar.
DAY 14: STONE TOWN
On this day after breakfast, our driver will pick you from hotel to stone town where you will do stone town tour and on return to hotel you will pass by spice farm to do the spice tour.
DAY 15: DOLPIN TOUR - RELAX
You will do a half day dolphin tour and later Jozani forest and after to hotel to relax.
DAY 16: GOODBYE
You will be taken to airport for flight back to Home.