Step 1
Tell us what kind of trip you want
Just answer a few quick questions
step 2
connect with nepal trekking experts
Get recommendations with insider knowledge
step 3
work out the details, book securely
100% satisfaction guaranteed
Upper Dolpo Trekking, the way you want it
Upper Dolpo Trek crosses three relatively high passes, good paths are followed throughout and there is no trekking on glaciers. Dolpo region is situated between the Tibetan plateau and the Dhaulagiri ranges which are also known as the legendary hidden land was closed for years to trekkers. Basically, the entire district was closed to trekkers until 1989 when the southern part of Dolpo was opened to organized trekking groups.
The warm welcome given by the hardy Dolpo-Pa and the captivating insight into the Tibetan way of life makes this a very special trek. It is a unique trek in Nepal, ideally suitable to both beginners and those who have been everywhere.
Start planning today, request an offer by our local experts. Just tell us how you like it, and get quotes to your inbox. We´ll find what suits you best, if you want to join a small group with one of our local partners or have a private trek.
See a video from the Upper Dolpo Trek
Example: How Can your Upper dolpo trek be Organized (19 days)
Day 01: Meeting or Arrival at Kathmandu (1,370 m/4,494 Ft)
Day 02: Official preparing day for trekking documents
Day 03: Kathmandu to Nepalgunj (100 m/328 Ft & 1hrs flight)
Day 04: Nepalgunj to Jhupal (2,340 m/7,677 Ft & 2-3 trek) via Dunai 45minute flight
Day 05: Dunai to Tarakot (2,500 m/8,202 Ft & 5-6hrs trek)
Day 06: Tarakot to Laini (3,160 m/10,367 Ft & 6hrs trek)
Day 07: Laini to Nawarpani (3,545 m/11,630 Ft & 6hrs trek)
Day 08: Nawarapani to Dharap (4,090 m/13,415 Ft & 7hrs trek)
Day 09: Acclimatidation day in Dharap
Day 10: Dharap to Numa La Base Camp (4,440 m/14,563 Ft & 6hrs trek)
Day 11: Trek over to Numa La Pass (5,200 m/17,060 Ft) to Pelung Tang (4,470 m/14,665 Ft & 7hrs trek)
Day 12: Trek over Baga La Pass (5,090 m/16,699 Ft & 7hrs trek) to Dalok Tang (4,080 m/13,382 Ft)
Day 13: Dalok Tang to Bingmo (3,610 m/11,838 Ft & 4hrs trek)
Day 14: Bingmo to Phoksundo Lake
Day 15: Se Phohsundo Lake to Shyanta (2,530 m/8,300 Ft & 6hrs trek)
Day 16: Shyanta to Jhupal (2,340 m/7,677 Ft & 5hrs trek)
Day 17: Jhupal-Nepalgunj-Kathmandu flight
Day 18: Rest in Kathmandu
Day 19: Departure.
Upper Dolpo Trekking Vibes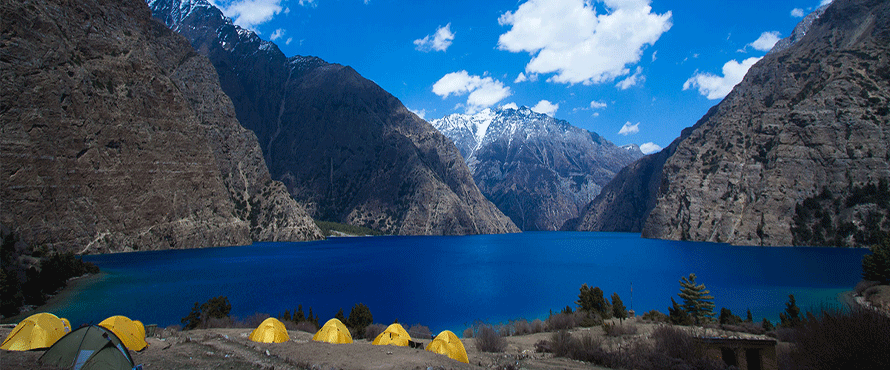 Frequently Asked Questions for Upper Dolpo Trek
WhaT is the best season for going to everest base camp?
This trip can be done all year, but we recommend going on spring/fall. We have fixed departures available most weeks of the year. Just send a request.
What should i pack for a trek to Upper Dolpo?
You will be informed about packing list when you get a quote, but here is a typical list for this trip:
Sun hat or scarf
Light balaclava or warm fleece hat
Sunglasses
Sun protection cream
Gloves
Camera
Basic First Aid Kit
Down vest and/or jacket *
Raincoat
Water bottles
Trekking shoes
Thick and thin both type of socks
Warm clothes
Tissue and Toilet papers
Toothbrush/paste
Large plastic bags – to keep items dry inside the trek bag
Towel etc…..
Extras like Binoculars, Reading book, Travel game i.e. chess, card etc, Swimming customs
How will the altitude affect me?
The Upper Dolpo Trek involves going to very high altitude. During the course of your trip you will be spending at least one night above 4000 meters and/or trekking to 5000 metres or above. This is not something that you should worry about; the human body is quite capable of adapting to a very wide range of altitudes, but it is important that we follow some simple rules in order to acclimatise successfully. Before coming on this holiday you should read the advice on trekking at high altitude. Unless you have previous experience of trekking above 4000 metres you should consult one of our trekking experts before embarking on this holiday. On this trip, we carry a portable altitude chamber (PAC-bag) and/or bottled oxygen for use in emergencies.